This is a wonderful way to get some healthy fats and fiber added into the whole family's diet!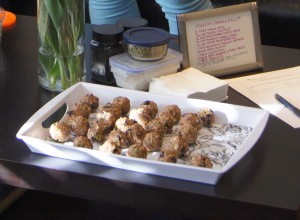 2 cups rolled oats
1/2 cup dried coconut
1/2 cup raw sunflower seeds
1/2 cup raw pumpkin seeds
1/2 cup dried blueberries
1/3 cup raw honey
1 cup almond butter (or other nut butter)
1 tbsp cinnamon
2 tbsp sesame seeds
2 tbsp flax seeds
1 tbsp vanilla
Combine all dry ingredients, then mix in wet ingredients, Moisten hands with water and form golf ball sized balls. Place in freezer for 20 minutes to set. Makes about 40 balls!  Enjoy!